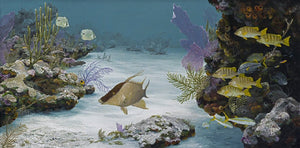 Original Painting - Sold

Canvas Print - 64x32
All Prints are sold without stretchers and are shipped rolled in a tube.
Hogfish, are of the wrasse family, they live in small groups mainly one dominate male and several females they can be found in the western Atlantic Ocean. The hogfish get their name because of their snout, using it to look for crustaceans on the ocean floor. I have been told lobsters are their favorite foods.