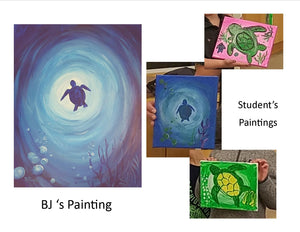 Date: 9/19/2020 @ 2:00 PM
Fee: $35.00
Ages: 5 – 17
Reservations: For Hawks Cay registered guess
Location, 61 Prime

Let your kids explore the world through color with BJ Royster! Marine Life Artist BJ Royster is recognized as the foremost fine artist of the Florida reefs.   Young artists are encouraged to express their creativity freely, without any judgment.  BJ Royster will provide kids with step by step instruction and is designed for all skill levels. 
Social Distancing:  Class size will be limited to allow for social distancing.  Each party will be seated at a separate table with at least 6ft distance. 
2 1/2 hour Kids Class: Included in the pricing are the paint supplies, instruction, and a take-home canvas.